Editorials and Articles Archive
Where Have All The Showstoppers Gone?
Water-cooler moments are becoming scarce as AI evolves
5 April 2008
Voted off from his semifinal group in favor of Ruben Studdard and Kimberley Locke, a defiant Clay Aiken took the stage on AI2's Wild Card Night and essentially told America, "Vote this off." His rendition of Elton John's Don't Let The Sun Go Down On Me was a huge hit with the Idolsphere, earning an approval rating of 91 on WhatNotToSing.com's 0 to 100 scale. At least until the Season One ratings come online in May, it stands as the first performance in our database to reach showstopper status.
As you may know, any American Idol performance that scores 90 or above is called a "showstopper" around these parts. Take this term with a grain of salt, because there's nothing the least bit scientific about it. We simply decided to marry a common Idol term with a suitably high round number in our rating scale. Since Aiken broke the ice, 25 more performances have earned the showstopper tag, including two from the current season: David Archuleta's Imagine, and David Cook's Billie Jean. Another 13 just missed, finishing at 88 or 89.
"Sun" was the first of five performances to reach the 90s in AI2 – Aiken turned in two more himself, while Studdard and Locke contributed one each. The legendary ladies of AI3 went one better, notching six – three by LaToya London, one apiece from Fantasia Barrino, Jennifer Hudson, and, praise the Lord and pass the ammunition, even Amy Adams. AI4 went one better still: Bo Bice four times, plus Carrie Underwood, Nadia Turner, and...Constantine Maroulis??! Back then, even a contestant who never reached the 70s with any of his other performances could still catch lightning in a bottle on any given Tuesday.
But in the immortal words of The Monkees: that was then, this is now. Season Five, beloved far and wide across Idol Nation, produced just three showstoppers, few enough that we can cite them all: Chris Daughtry's Hemmorhage, Mandisa's I Don't Hurt Anymore, and Katharine McPhee's Over The Rainbow. Season Six, reviled far and wide, also had three: Melinda Doolittle's My Funny Valentine and I'm A Woman, and LaKisha Jones's And I Am Telling You I'm Not Going, all coming in the Semifinals. With about two-thirds of this season's scheduled performances in the books (102 of 156), AI7 has produced the aforementioned two, which over the course of a full season would project to...um, yeah. Like blind mice, stooges, and tenors, we seem to be stuck on three.
In fact, as we noted in last week's episode summary, "Billie Jean" just snapped a streak of futility that, while it might not be in Chicago Cubs territory, was still pretty remarkable. Idol had gone 134 consecutive Finals performances between McPhee and Cook without any reaching the 90s. Once upon a time, Barrino and London turned in two in the same night. So did Aiken, all by himself.
So why has it become so tough to stop the show lately? After all, it's the same basic format. The same three stoog–...er, judges. The same band since S3. Our ratings methodology hasn't changed. And, all joking aside, the contestants certainly haven't gotten worse. Have America's standards just risen that high?
Now we're getting warm. No, the average viewer hasn't become harder to please, but he or she has grown a lot harder to pigeonhole.
From Justin To Kelly To Chikezie To Brooke
In its early days, American Idol was the Land Of The Divas and Divos. Big voiced singers, many of whom cut their teeth on the gospel or theater circuit, standing in the middle of the stage and booming out classic songs. All that was missing were the little Viking horns and the spears. No, we're not mocking the outstanding vocalists who drove those first few seasons, but the fact remains that most of their top-rated performances came on power ballads, torch songs, or Broadway classics. Very few voluntarily took on hard rock, true country, or an honest-to-goodness soft ballad...and if you think Celine Dion songs qualify, there is absolutely no hope for you.
Furthermore, we don't fault these contestants for sticking to what worked. Go check out Aiken's database page and see which were the only two songs on which he failed to reach the 3-star level. Look at some of the other songs the big-voiced singers struggled with. Until Archuleta nailed it, for example, three celebrated Idols had failed to take Imagine to 4-stars.
The formula changed around the time of S4, which brought America the first viable Idol contenders in country and rock. S5 brought more country, more rockers, and a couple of blue-eyed soul throwbacks. S6's winner was cut from the early-season diva cloth (we mean that in a nice way), but the rest of the finalists were from all over the musical earth...and, in the case of Sanjaya Malakar, you might need to check Google Moon, too.
As the contestants' styles became more diverse, so has the show's audience, who in turn demanded even more variety. Season Seven's Top 24 featured divas, crooners, pop singers, country singers, folk(!) singers, cabaret singers, a boy-band rocker, a blues rocker, an emo rocker, and even the hitherto unknown subspecies of a bluegrass-R&B-country-rocker-balladeer. Speaking of whom, maybe Chikezie is the prototype for the AI Contestant Of The Future: a versatile singer who maximizes his cross-demographic appeal by throwing two or three completely different genres into one 90-second performance. You think we're kidding? This week, Syesha Mercado sang half of her song like Dolly Parton and the other half like Whitney Houston. Can a Sarah McLachlan/Barry White/Guns 'N' Roses medley be far off?
Here We Are Now, Entertain Us
As the Idolsphere becomes more diverse, it's becoming next to impossible to please everyone with one performance. Rock fans might not like country music, many country fans can do without folk, and folkies might hit the fridge when a rocker is singing. But keep in mind, during the first three seasons or so, most of these people probably weren't watching AI at all. To score well these days, contestants have to impress a wider cross-section of America, which means doing something so spectacular or so unexpected that it simply can't be ignored. It's much easier to achieve this in the semifinals, before the fanbases have congealed and audience expectations are set.
In fact, it's getting harder and harder to reach 85 these days, let alone 90. So far in Season Seven, there have been fourteen 5-star performances, but ten of them have settled in the 80-to-83 range. As the chart below shows, the most recent three seasons (represented by the purple, light blue, and brown lines) hold their own through 80, but once you get above 84, they bring up the rear.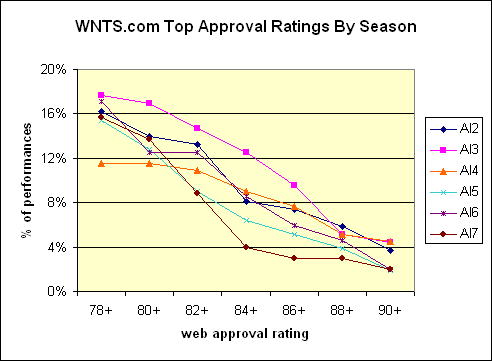 None of this means the quality of the high-end Idol performances is declining. Personally, we've seen four or five already this season that we'd have put in the 90s if you left it solely up to us. We're certain that many of you feel the same way, except you'd probably choose five different performances. All of this is to be expected as the show evolves, expands, and matures, and the audience grows more representative of today's broad music scene. Sooner or later, the producers will give in and let some true hip-hop and dance-rock contestants on board, at which point 90 ratings might become extinct. Let it be, we say; Idol has reached the point where not every performance can be classified as either a triumph or a train wreck . Better still, to quote The Monkees again: Today there is no black or white / Only shades of gray.
- The WNTS.com Team